Jason Adamoas THESEUS


JASON ADAMO is originally from the Philadelphia area, where he appeared in numerous shows, including

Camila

(Walnut Street Theatre),

Brigadoon

(Bristol Riverside Theatre),

Cyrano de Bergerac

and

Evita

with the Actor's Company of Pennsylvania at the Fulton Opera House,

Li'l Abner

(Allenberry Playhouse) and

Gershwin, By George

(Wilmington Grand Opera House). He has appeared in New York in

The Alzheimer's Monologues

(Producers' Club),

Philosophically Speaking

(Kairos Italy Theater) and

Jane Eyre: The Musical

(Wings Theatre). Other Shakespearean credits include

Hamlet

and

As You Like It

with the Philadelphia Shakespeare Festival and Off-Off-Broadway productions of

The Winter's Tale

and

Titus Andronicus

. Jason is a graduate of La Salle University in Philadelphia.
Jessica Pagan as HIPPOLYTA


Pagan is the Queen of the Amazons in real life too. She hails from New Orleans, Louisiana, where she starred as Queen Elizabeth I in her fourth grade Living Biography Pageant and fell in love with the drama of the English Renaissance. She has attended NOCCA and BADA and has a BA from Columbia University and an MA from RADA.

Ashton Crosby as EGEUS and PETER QUINCE


This is Ashton's fifth Midsummer. The first was a schoolboy production; he was Hermia. He's happy to have lived long enough to play his own father. Recent NYC credits include

The Shoemaker's Holiday

,

Scapin

and

The Power and the Glory

, all at the Storm Theatre. He has also spent the last four summers doing Free Shakespeare in the Park, Untermyer Park, in Yonkers.
Sarah Silk as HERMIA


This is Sarah Silk's second chance to perform Shakespeare since she moved to NYC last summer. She was last seen in

William Shakespeare's Haunted Pier

with the Faux-Real theater company, where she played Regan from

King Lear

and Tamora from

Titus Andronicus

. Past roles include Mrs. Martin in

The Bald Soprano

and Viola in

Twelfth Night.

Sarah is a recent graduate of the University of Chicago undergraduate college where she studied philosophy. She is from Pittsburgh, Pennsylvania, and asks that you please tip your servers well.
Chella Ferrow as HELENA


Chella is thrilled to be playing Helena this Spring. She first performed in

A Midsummer Night's Dream

at twelve, in a hot and crowded schoolroom in Johannesburg South Africa which was the beginning of her passion for the theatre, and which led her to London to attend Drama Studio London. Her London theatre credits include

Time and the Conways, The Dead,

and

Cousin Basilio. Recently, Chella has been focusing on film and television, and her most recent credits are Beyond the Ladies Room Door, Oh Pere Mere et Terre, and Law and Order.
Michael Vaccaroas DEMETRIUS


Film: Dirty Laundry, Pisser, Heat Wave, The Prodigal, Prince's Fairy, Ishtar, Restless, Rich Kids. TV: Another World. Changing Channels' Theatre: Believe In Me...A BigFoot Musical, Runaways, Godspell, Grease, Angel, Doo Wop Dracula, West Side Story, In The Boom Boom Room, Bread Alone, MacBeth, Left & Right Are From The Actors' Point Of View, Girls & Boys Together, Murder Most Foul, Pageant, Fury, Company. Cabaret: Child Of The '70s (Best Male Cabaret Singer-L.A. Gay & Lesbian Times), Back To Broadway (MAC Award- Outstanding Musical/Comedy Performer), On The Road To Kabul, The Best Sex Of The 20th Century Sale!, The Life & Times Of Billy Rae, Too Many Johnsons. Michael's debut CD, Archangel, is available at CDBaby.com. He is currently recording his second, Je' mappelle Michael.
Stephen A. Long as LYSANDER


Stephen Long is pleased to be back under the lights -- instead of hanging them. He most recently appeared on stage as Von Sparren in

Prince of Homburg

...three years ago in London, England. Since then he has been focused on the other side of production: shooting and lighting independent films. This has accidentally resulted in bit parts in films and MTV, but he never would have returned to the stage had it not been for the encouragement of Mr. Blais. Thanks to God for His blessings, and The Parents for their patience.

Martin Keiser as NICK BOTTOM


Marty Keiser grew up in Medford, NJ and attended Tufts University and the London Academy of Theatre, double majoring in Theatre and Psychology. He recently received an MFA in Acting from Columbia University and became a member of Actor's Equity. New York credits include: Devillette in Andrei Serban's

Faust

(Metropolitan Opera), Joshua/Gerry in

Cloud 9

, Hercules in

Alcestis at Chashama

, Kent in

King Lear

directed by Kristin Linklater, Sir Andrew Aguecheek in

Twelfth Night

which also toured to Germany and Korea, Jaquin in Eduardo Machado's

Crocodile Eyes

which toured to Bologna, Italy and

The House of Bernarda Alba

, the New York Observer's Ensemble of the Year for 2004. He has seen Midsummer 6 times, on 3 continents, previously performed as Lysander and still loves every word.
Dusty McKeelan as FRANCIS FLUTE


Dusty McKeelan graduated last May with a B.F.A. in Drama from New York University in conjunction with The Stella Adler Studio of Acting. Highlighted roles from the past include Prospero in

The Tempest

, John in

Fifth of July

, Patrick in

Inventing van Gogh

, Peter in

Eastern Standard

, and Edward in the New York premiere of

The Revelation Circus

. Mr. McKeelan is overjoyed to be working with Shakepearean text, and he wants to thank you all for supporting this production. He would also like to thank his wife Lindsay, his parents, all of his friends and family, and of course God for their continuing love and support.

Robert Dioguardias TOM SNOUT


For the Bard, Robert has played Malcolm and Ross in two separate productions of

Macbeth

, and Roderego in

Othello

. Other stage credits include Regional: Williamson in

Glengary Glen Ross

for Two Fools productions, Daniel Kaffee (lead) in

A Few Good Men

for The Stanley B Theatre Co. (Boston) Off-Broadway includes: Dread in

The Adventures of Riff-Cat Polito

, for Theatrix, Larry Gordon in

Tunnel Phobia

for The Gallery Players. Other showcases include

Flesh Tint

for The Looking Glass Theatre

, Lottery

for Theatre Studio Inc. Tours include The Prince in

The Prince Of The Pyramid

for The National Theatre For Children. Film credits include David Silver in

The Family Stone

with Sarah Jessica Parker and Luke Wilson, Wallace Cavanaugh (Lead) in

Ocean City

(winner .Best Short Film. Ohio International Film Festival), Pete Hurley in

Bringer.

Robert is excited to clown around with everyone and says "Its not often I get to play a stone wall on stage. My inspiration comes from the level of customer service at the cable company"
Matthew R. Staley as ROBIN STARVELING


Matthew is thrilled to be working with Lon again after having appeared with him last year in

The Dentist

. Recent credits include: The Doctor in

The Dentist

, Planchet in

The Three Musketeers

and Flippy the Clown in

What is Legitimate Theater?

.
Paul Pakler as PUCK


Paul is very excited to be playing Puck in this production. This is his first performance in New York, having moved from Orange County, California. Paul's most recent credits include

Some Voices

(Ray), for which he received critical acclaim from the LA Times and

Snow White: An Enchanting Musical

at Disneyland, where he originated the role of Dopey. Paul is a graduate of Point Park University with a BFA in Theatre.

Brett Maughan as OBERON


Brett Maughan recently relocated to NYC from Colorado, where he was a director, actor, and designer for theatre. His NY credits so far are Soldier/Priest/Son/Guy in a staged reading of

Armenian Voices

, various characters (human and puppet) in New Perspective Theatre's

Steal Away: The Living History of Harriet Tubman

, and he will be performing the Prologue and Stalagmus in Plautus'

The Prisoners

for high school Latin students in April. His recent Colorado roles include Val in Tenessee William's

Orpheus Descending

, Banquo in

Macbeth

, and he served as director for

Rosencrantz and Guildenstern are Dead

, all with The Upstart Crow in Boulder, Colorado. His favorite credits are Linus in

You're a Good Man, Charlie Brown

, Oberon, and director for Craig Lucas'

Blue Window

.

Emily Gerstell as TITANIA


Emily Gerstell literally began shrieking and jumping up and down for joy when she got Lon's message offering her the role of Titania - much to the chagrin of the other patrons of Starbucks. This marks her second time working with Lon and Jason; she had the pleasure of acting alongside them in this past summer's production of "The Dentist." She graduates with honors this May from Barnard College, where she majors in English Literature with a concentration in Theater. While at school, she has pursued her acting career outside of Columbia's campus and has appeared in numerous shows and films these past four years. Much love to her family, friends and teachers for their unflagging support.
Erica Francis as PEASEBLOSSOM


After taking a few years off to become a filmmaker (currently a Camera Assistant), Erica is happy to be acting again (seeing as that is what got her into that whole mess to begin with). She began acting with the Junior Theater in Satellite Beach, Florida and then with the Kechi Playhouse in Wichita, Kansas in

The Man Who Came to Dinner

and

Witness for the Prosecution

and was a stand-in for the Hallmark

Sarah Plain and Tall

series. She was a company member of The Metropolitan Ballet of Wichita and The Metropolitan Ballet of Topeka as a soloist and was seen in

Swan Lake, Sleeping Beauty, Snow White, Coppelia, Swine Lake

(Night of the Living Zoo), and many, many, many performances of

The Nutcracker

(to name a few). She is a graduate of the Brooklyn College Film Department. Thanks and much love to God, family, and friends.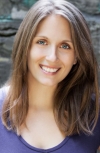 Christina Lynn Vinsick as COBWEB


Christina is all smiles to be performing Shakespeare for the first time in New York under the direction of Lon Blais. She has studied Transformational Acting in Woodstock at the Sande Shurin Studio while dedicating the last five years to the Italian restaurant she owns with her husband. Her passion for stage dates back to the role of Goldilocks in an upstate school production of

Goldilocks and the Three Bears

. Most recently she has worked on the James Gray production of

We Own the Night.

Christina's joy of perfomance is not limited to the theatrical, though, and extends into competitive sports. She is a former U.S. Rock Climbing Team member and was a national and regional champion; an alpine ski racer, martial artist and motorcycle enthusiast. Also, a student of renowned canine behavior expert Dr. Karen Garelick, she has trained to be a handling specialist. She has donated her spare time to community outreach efforts and volunteers as a consultant at Vinyard Sound Recording Studio. Pre-production on her documentary project

Finding Faith

is currently underway. Guided by Lon and Joanna Blais, she's happy to make her New York debut in

Midsummer

. She is grateful to God and sends big hugs and deep thanks to her faithful family, supportive friends and loyal staff who help remind her that even though dreams may not always pay the bills....they are what keep a spirit alive.
Erica Rhodesas MUSTARDSEED


Erica Rhodes has made numerous appearances on Garrison Keillor's,

A Prairie Home Companion

. She has starred in

White Russian

, and

Right as Ron

Off-Broadway. And she has toured with TheatreWorks in

Ramona Quimby

. She is currently attending the Atlantic Theatre Conservatory. She is a member of Actor's Equity.

Lon Blais as SNUG the JOINER (and Director)


Lon is delighted to be directing for this Merry Month of May's

A Midsummer Night's Dream.

Lon, although always having a hand in some form of theater, retired from teaching a year ago to dedicate his full effort to his "other career". To date he has gotten himself into one of the unions, appeared in six films (ok, they were indies), two commercials (ok, non-union and local, to boot), some highly forgettable extra work (good for some pocket money), and with "The Dentist" three plays (which is what he retired for in the first place). Lon has apppeared as Henry in "Henry V", Principal Vernon in "Reflections from the Breakfast Club", John Proctor in "The Crucible", Geoffrey in "The Sisters Rosensweig", Michael in "Dancing at Lughnasa", along with a slew of dues-paying others. Lon is an Associate Member of the Society of Stage Directors and Choreographers who has directed numerous regional and acadenmc productions. His credits include "Jesus Christ Superstar", "A Flea in Her Ear", "The Sisters Rosensweig", "Little Foxes", "Come Back to the 5 & Dime, Jimmy Dean, Jimmy Dean". Thanks to Jo for letting me pursue my dream, Kaiser for not allowing me to look too terrible, and Aggie for licking my face.

Agostina Belly* as MY DOG


Named after a once noted Italian film star (though she spelled her last name "Belli" ) is better known as "Aggie" to her fellow cast members who refers to her as "the potato chip of canines"- you can't have just one visit from Aggie, you'll want more and more. "Midsummer" marks the Aggie's New York stage debut.

* Appears Courtesy of Daisy Hill Puppy Farm